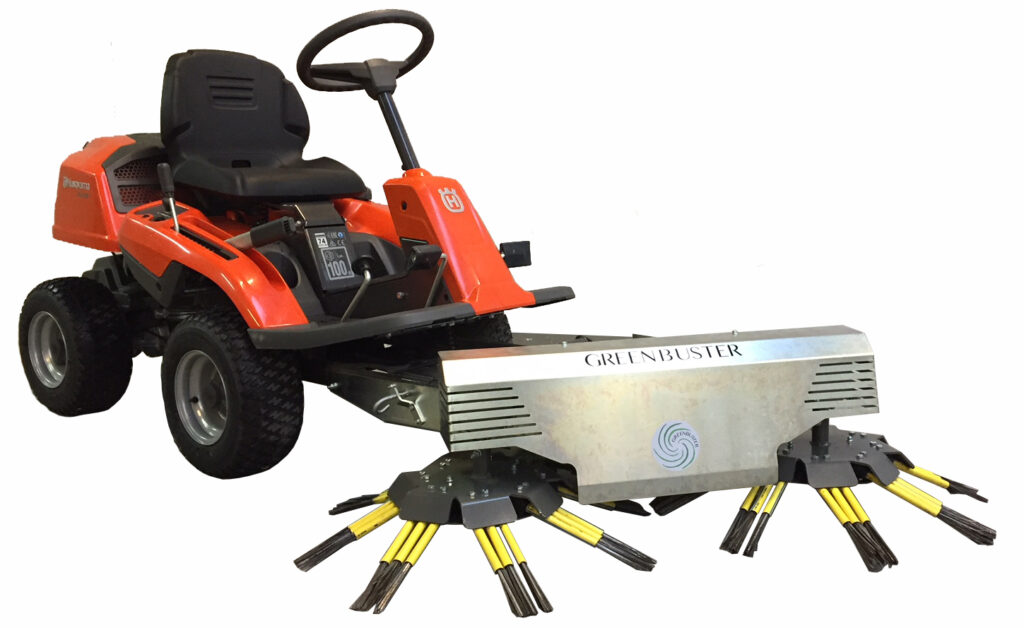 Specifications Greenbuster Rider 200 – 300
Working width 135 cm
Solid wheel
Reliable construction
Service friendly
Weeds remover – Tile Cleaner – Removes Algae
Greenbuster Rider 200-300 fits on Husqvarna Rider model 200 and 300 series. With this unique tool, your Husqvarna rider becomes a multi machine, able to solve multiple tasks. The powerful steel-brushes removes unwanted weeds between tiles on footpaths, driveways, sidewalks, parking spaces and the like. In the same process it removes unwanted moss between the tiles. The machine's construction makes it gentle to the surface.
Older tiles with entrenched algae
The Greenbuster Rider easily cleans surfaces with a massive algae-growth.
If necessary, water the surface with a water before starting work, this will avoid unnecessary dust development.
Optimized speed
The rotation on the brush-head are optimized to get the best results. At the same time, the speed ensures that stones, weeds and dust are not thrown far away.
Steelbrush
The machine is equipped with 12 sets of three bundles of very powerful steel brushes, which effectively remove weeds and moos. The steel brushes are specially made at our own factory.
Avoid chemistry
Clean effectively tiles and stone surfaces without the need for chemicals, gas burners or high pressure cleaners.
Art no. 18054
Delivered unassembled. Can be shown with accessories. Husqvarna Rider not included.